While #BonaGivingDay lasts just 24 hours, the impact of your gift can last a lifetime!
Just ask the students whose lives you touch with every dollar donated...
LAYNE DOWDALL, CLASS OF 2020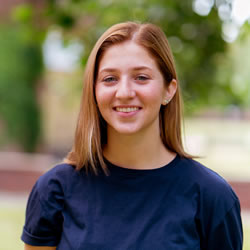 Layne Dowdall, a sophomore journalism and mass communication major, came to love Bonaventure on her second visit.

"Everyone was super nice," Dowdall, an Ellicottville, N.Y., native, said, adding that St. Bonaventure's small classes afford her the opportunity to forge real bonds.

"You get to know your professors really well, and you're not just one out of 100," Dowdall explained.

The strong personalities that initially drew Dowdall to Bonaventure continue to have an impact on her education.

"I have a really good adviser, so he's good at getting me involved in things and connecting me with alumni," she said.

In fact, her adviser, Dr. Denny Wilkins, professor in the Jandoli School of Communication, quickly found out Dowdall was interested in pursuing environmental journalism. While the market is niche, Wilkins himself has a background in environmental studies. Wilkins, who has been a member of the Society of Environmental Journalists (SEJ) since its founding, has served as the editorial board chair for the society's quarterly journal.

"He has a history in environmental journalism, so he's excited that I want to go down that same path," Dowdall explained.

Read more about Layne Dowdall, '20
HAYLEI JOHN, CLASS OF 2018 and GEOFFREY BROADBENT, CLASS OF 2019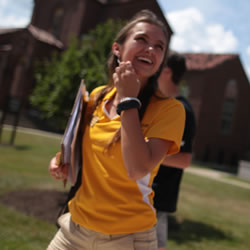 Haylei John, '18, and Geoffrey Broadbent, '19, have plenty in common — both serve on the executive board of the Student Government Association, both work as student ambassadors on campus, both have served as resident assistants and on Model U.N., and, perhaps most strikingly, both are local students. John hails from Salamanca, N.Y., about 15 minutes down the road from Bonaventure; and Broadbent is an Olean native.

John, a senior international studies and Spanish major, and Broadbent, a junior biology major, don't define themselves by their majors — the world of Bona's is their oyster in terms of interests and activities.

John and Broadbent have a unique perspective on attending college close to home — and love to share that perspective with visiting high school students.

Broadbent explained that many prospective students love the atmosphere of the university itself but are unsure if they're willing to commit to a college in a rural area.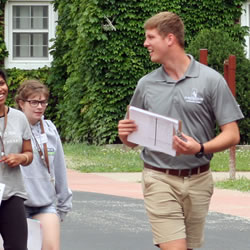 "Being from Olean, I feel I am really able to highlight all the great things about the local area and ease any concerns or misconceptions they had," Broadbent said.

John added that coming from a nearby town to college didn't take away from her time at Bonaventure, something she can demonstrate to students she shows around campus.
Read more about Haylei John and Geoffrey Broadbent



SEAN LYNCH, CLASS OF 2018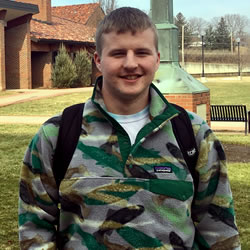 "A scholarship was extremely important for me to come to St. Bonaventure. The assistance has been huge. When comparing schools, Bona's gave the biggest award, and that was one of the factors that led me to the great friends and opportunities I've gained here."
HALEY SCHRENK, CLASS OF 2018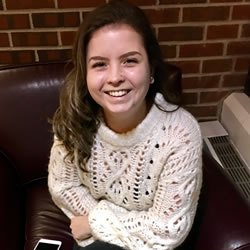 "Out of all the colleges I considered, St. Bonaventure presented me with the most opportunity. From when I received my acceptance letter to now, my experience at Bona's has far exceeded my expectations. My Bonaventure memories would not have been reality without the scholarships I received. Without the donations for scholarships, I would not have been able to become part of The Buzz, one of my favorite clubs on campus, and the place I've spent the past two years of college working and making some of the best memories I have."
MARISSA MCCALL, CLASS OF 2018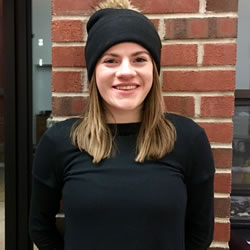 "When making my college decision, it was down to two universities: Bonaventure and a school in Pennsylvania. I picked Bonaventure because I was able to afford it from the scholarships I received. Because of these scholarships, I met people who have changed my life and will continue to have a positive impact on my future."